The first-generation Corvette was almost identical to the Motorama exhibit model that GM debuted at the 1953 New York Auto Show, where thousands of event attendees showed interest in making a purchase. Just 6 months after the auto show the C1 Corvette was available for sale.
The First Corvettes
In the beginning, there was a strong emphasis on maintaining a low vehicle price, so fiberglass (rather than traditional steel) and readily available parts were used to produce the 1953 Corvette. It was equipped with nearly the same suspension and chassis as the '52 Chevy sedan, and also had practically the same inline-6 engine found in all Chevys. Its engine, however, was modified; it included a high-lift cam, three Carter side-draft carbs and higher compression, all of which helped increase power output to 150 hp. The C1's iconic look was more a matter of function than form because of the chassis and drivetrain configuration chosen by its engineer, Cal Tech grad Robert F. McLean. He placed the engine near the fire wall and the passenger compartment and drivetrain far at the rear of the vehicle. This configuration offered good weight distribution and gave the Corvette its unique arrow-like proportions - the classic look it's still known for today. Only 300 Polo White 1953 models were manufactured.
The Small-Block V8 & Budding Racing Champ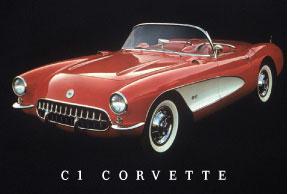 Two years later in 1955, Corvette history was made when Chevy's 195-hp small-block V8 engine was introduced. Almost nothing else change about the car, but now it could produce more power and its performance potential was unleashed. In 1956 the Corvette flaunted several exterior design changes including side coves, a new fascia with a slick chrome grille, and a new removable hardtop option, among other highlights. '56 was also the year when GM first put the Corvette on the racing track. Horsepower had increased to 210 and for the first time a three-speed manual transmission was offered. The 'Vettes chief engineer at the time, Zora Arkus-Duntov, took the new models to Florida's Daytona Speedweek; one hit 137 mph and the other 145 mph, while a competing Ford Thunderbird hit only 134 mph.
A Redesign & A Bigger Engine
Another significant design overhaul took place in 1958. Some critics thought it gaudy, but the '58 Corvette was a success when it came to sales. The exterior featured a number of styling changes, including numerous chrome accents, hood louvers, dual headlights, twin truck spears and side scoops; the interior was also revised. By that year the small-block V8 was even more powerful. Dual quad versions could generate 245 and 270 hp, and the most powerful version could produce 283 hp with the proper setup. In 1962, the small-block V8 increased in size and, of course, power. At 327 cubic inches, some versions of the V8 could pump out 300-340 hp, or even as high as 360 hp with a fuel injection system.
The C1 Corvette's existence spanned over nearly a decade. During this time, the chassis it shared with the '52 Chevy sedan had never been fully updated and that much-needed change wouldn't come until the next generation. However, near the end of its cycle the C1 was finally beginning to show its true ferocity for the first time.
June 30, 1953 - First Corvette EVER built. Polo White/Sportsman Red interior with black canvas top.
1953 - 300 Corvette models (basically hand built) in Flint, Michigan.
1954 - Corvette built in St. Louis, Missouri.
1954 - Corvette available in a total of 4 colors and choice of 2 tops (black or beige).
1955 - Corvette becomes available with V8 engine.
1956 - Slight body changes made, including the addition of exterior door handles, new front fenders, chrome concave body coves).
1957 - Corvette gets fuel - injected V8 engine.
1958 - Corvette gets 4 headlights, chrome accents, larger front and rear bumpers, and smaller gauge duster dash. Seat belts become standard.
1959 - Corvette gets redesigned bucket seats and door panels and glove box.
1960 - Improved ride and handling through larger front & rear sway bars.
1961 - Corvette gets a revised front grille, rear end treatment and exhaust moved out from bumper to under car.
1962 - Cove trim removed and now available in solid color only for first time since 1955.
Make an Inquiry
* Indicates a required field
Hours
Monday

8:00 am - 9:00 pm

Tuesday

8:00 am - 9:00 pm

Wednesday

8:00 am - 9:00 pm

Thursday

8:00 am - 9:00 pm

Friday

8:00 am - 9:00 pm

Saturday

8:00 am - 8:00 pm

Sunday

10:00 am - 6:00 pm