The 2014 Corvette Stingray perfectly embodies the principal of beauty in purpose. With every line, every curve and every under-the-hood and interior feature lovingly crafted and thoughtfully placed, the all-new next-generation C7 is a modern masterpiece that's undoubtedly worthy of the Stingray name. Mark your calendar for this fall, when the 2014 Corvette is due to arrive in Arizona. Contact us to reserve yours today.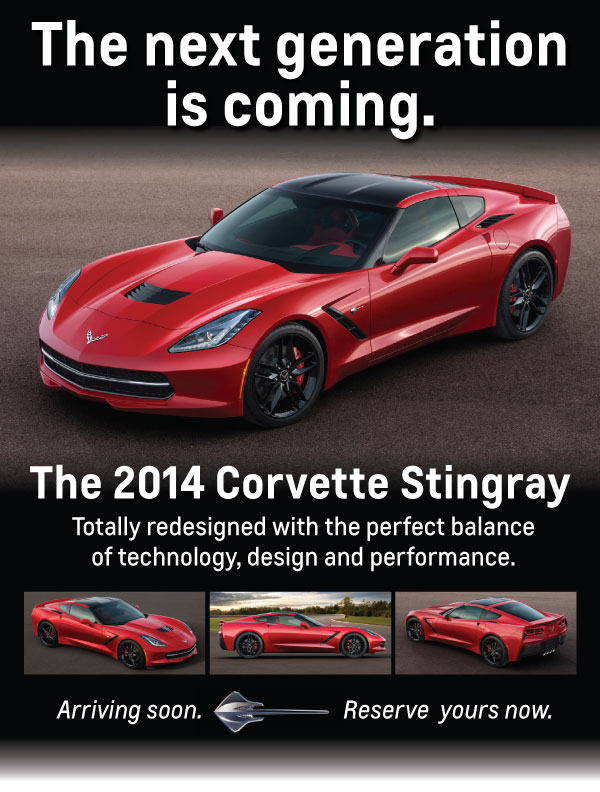 With a matchless balance of riveting performance, leading-edge technology and aggressive styling, the C7 was born to be a legend. If you reserve yours now, you could be driving a 2014 Corvette Stingray in Phoenix soon after shipments hit dealer lots. Whether you're a collector or a sports car shopper in the market for a weekend roadster that'll turn heads wherever you travel, the 2014 Stingray will be a beautiful new addition to your driveway or car collection.
Just a few highlights of the C7's complete redesign include:
A new all-aluminum shell, carbon-nano composite underbody panels, carbon fiber hood with an attention-grabbing slotted vent and, on coupes, a removable roof panel. The 'Vette's new aluminum body aids in shifting the car's weight rearward, while also substantially reducing weight, which is down 100 lbs. since last year.


A newly styled interior with carbon fiber and aluminum trim; two new sport seat options, both of which use hardshell-backed magnesium frames; and a slew of onboard technologies including 8-inch configurable infotainment/driver screens.


A Z51 Performance Package that includes differential, brake and transmission cooling; a dry-sump oiling system; and an electronic limited-slip differential. With this package, you could drive the 2014 Corvette Stingray on any Phoenix racetrack and leave the competition in the dust.


An all-new 6.2-liter LT1 V8 engine with direct injection, continuously variable valve timing, Active Fuel Management and other advanced technologies. Working together these elements reduce the Corvette's fuel consumption while delivering increased power.


A new smooth shifting seven-speed manual transmission option with Active Rev Matching, as well as a new Drive Mode Selector with five dynamic modes that adjust handling parameters, throttle and several other vehicle attributes in an effort to maximize vehicle performance in every driving condition.


Be the first of your friends to own the 2014 Corvette Stingray when it goes on sale in Phoenix, Arizona and other cities across Maricopa County. Corvette Planet is proud to bring you the latest news and information about an iconic sports car, plus access to one of the most extensive inventory listings of used and new Corvettes for sale in the Phoenix area.
�